SECRET PROJECT OF SECRETNESS REVEALED
Invasion of the Daleks (Doctor Who Quilt)
This was a wedding present for my friends, who were married yesterday (congrats!!)...
Oh! No! They've got the TARDIS surrounded!
...
59 Dalek Appliques...
First, (well, after all the blocks were pieced) I cut out the shapes on the underside fabric of the applique.
Next, I sewed the pieces to the applique fabric.
Trim around the edges, cut out the middle of the applique backing, turn and press.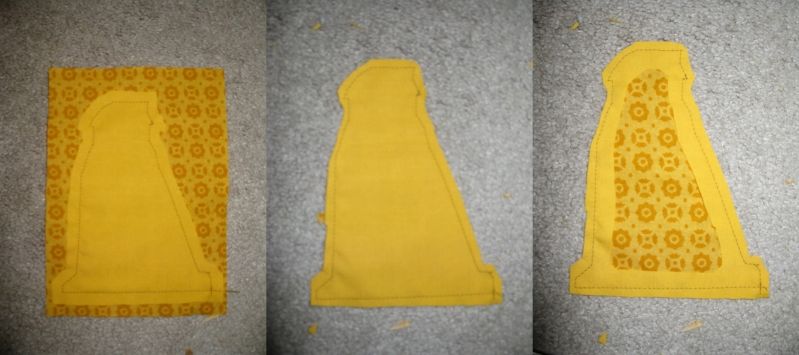 Paint!
DALEK ARMY!
...

(There is only) One TARDIS (applique)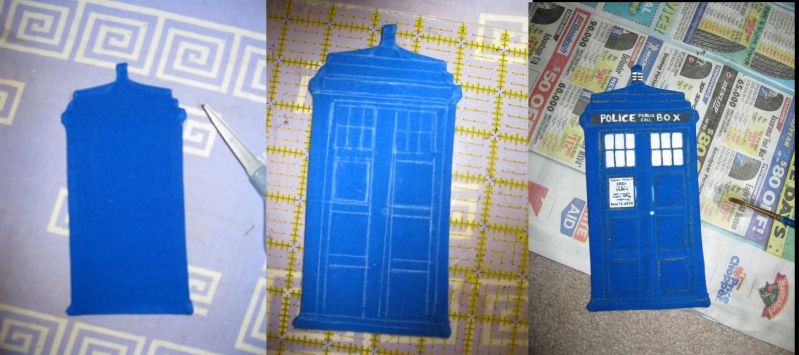 Same as Daleks, sew, turn, press. Then sketched on outline and Paint!
...
Machine -Quilted Diagonals.
The details (eye stalk, plunger, and egg beater) on the daleks were hand-embroidered (after the applques were all sewn on, also by hand).
I hand quilted inside all of the blocks, around the daleks and TARDIS. After going through the wash, the finished product definitely looks 'quilted', all poofy and whatnot...
For the border and part of the backing (the fabric wasn't wide enough and my math was apparently off, so I had to piece it), I used this awesome galaxy/nebula fabric. It almost matches perfectly, if only it had a bit more pink in it...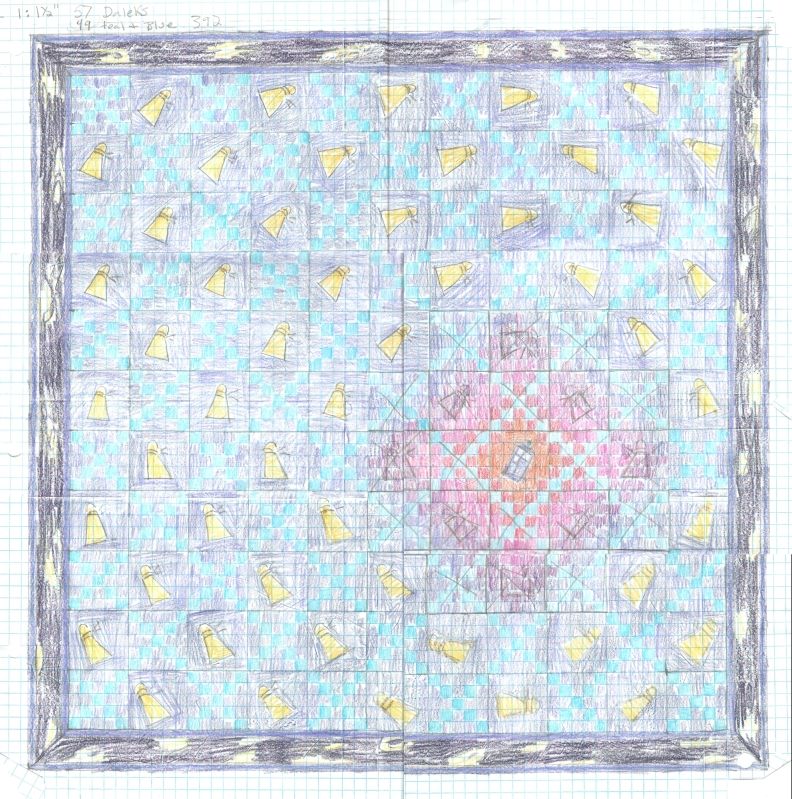 The quilt is done in an altered Irish chain style, which I had to sketch out to keep the transition from the TARDIS background to the blue straight. It's scanned in pieces, but to be honest, the graph paper blue print/sketch isn't that fantastic in real life either. But it did the trick. I changed my mind about the dalek layout after doing the sketch, instead opting for them to all face to the right and swirl about the TARDIS...
It has over 900 of the 1 1/2" (finished) dark blue blocks, 550+ turquoise, 108 purple, 80 pink, 40 red, and 22 orange. Also, 51 of the 7 1/2" square center blocks. Overall size, 92"x92"... my second queen sized quilt!
...
Hope it keeps them warm and cozy through the years!