Sadly, I was unable to get any photos of the dress glowing in the dark. My camera is just not up to such feats, apparently. But here we have it in daylight. The green veins on the Guatemalan Insanity Peppers are the part that's glow-in-the-dark.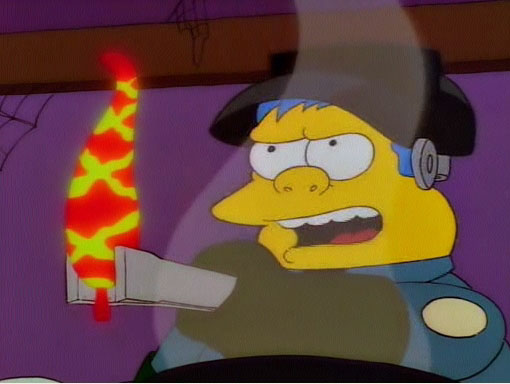 Since
Meg's Ragged Edge
always seems so organized in her outfit posts, I thought I'd do it her style:
Dress:
leftover denim, vintage buttons,
Simplicity 2246
view A with sleeves from view C
Leggings:
paisley nylon,
McCall's 6173
(don't follow sizes on this pattern, WAY too large- they don't account for stretch or something)
Arm Warmers:
bits cut off from leggings to hem them (yes there was that much extra length, fitted, openings finished with zig-zag stitch
Necklace:
purple scrap twill pouch and cord, polymer clay chili spoon
Belt:
my homemade braided belt
Boots:
'Saloon boots' acquired from overtstock.com a couple years ago
"They say he carved it himself... from a bigger spoon."
-Lenny, El Viaje Misterioso de Neustro Jomer
I didn't have a bigger spoon from which to carve mine, so I busted our the polymer clay. Plus, I wanted it more necklace size.